My trip started with a flight from San Antonio to Houston on a tiny plane, and then a flight from Houston to Munich, on which we were served dinner, expected to sleep, and then five hours later were awoken for breakfast. Sleeping on planes is not a skill I have, so by the time we landed in Munich, I was pretty tired, and it was 10 am. I met up with Maria, a juggler I knew from Wisconsin Pass-out this summer, in the Munich airport train station- we took the metro to the west station in Munich, got our train to Salzburg, changed trains and got to Linz. We had two hours until the next bus to Konigsweisen, so we got hot chocolate and checked email, to discover Frank and Juli were going to be going through Linz in about half an hour with space for two people in their car. Maria called them, and they stopped to get us – much better than the bus!
Konigsweisen is a tiny town – 3000 people. The Austrian countryside is beautiful, with lots of tiny groups of houses and such. Karlingerhaus seems to usually host school groups or camp-type things – they're a little confused by us, but seem to think we're polite enough. I found a bed in a room with seven beds, but only five were occupied – though one of those snored. Ah well, I had earplugs for a reason.
The juggling gym was a really nice space, with a crash pad and benches for when you got tired of juggling and just wanted to watch (or play with Rubik's cubes), and lots of room to juggle in. It also had porthole windows up near the ceiling that passersby could look in through, and occasionally we'd look up to see some local kids watching.
Of the nearly seventy people there, I knew seven when I arrived. There were only two other Americans, and nearly half the group was German. We also had five guys named Christian, which made for a certain amount of confusion.
The Karlingerhaus fed us dinner every night, and it was pretty good, though I didn't always get a real description of what it was, since the kitchen staff spoke only German. We also had a smaller kitchen and eating area where we had breakfast, lunch, and snacks – sometimes at juggling festivals I feel like a hobbit, having breakfast, second breakfast, elevenses, lunch, tea, dinner, midnight snack, etc. Staying fueled for juggling is very important!
On the third day, I went for a walk with Maria to see the area (and also get a little sun, since I'd spent the previous days entirely indoors). Really pretty mountains and countryside.

I got to do a lot of really fun juggling – learned a new set of scrambled patterns, Kennedy, and Clubabout, a whole set of zap patterns, Ambled V (not that it worked, but I understand the theory of it), and finally got so I understand Aidan notation a bit better. I also met and juggled with a ton of great people.
New Year's Eve, people organized an party, with groups in charge of drinks, food, dancing and music, decorations, a trivia quiz, and, hilariously enough, water ballet! The water ballet group actually took their part really seriously, and choreographed an entire piece to music, with waterproof glow balls and pyramids and lifts and everything. It was amazing, having all of us around this tiny pool, with six people performing a thing they'd created at one in the morning the previous day. The food and drinks and everything were pretty great too. At midnight, we all went outside with glasses of prosecco and watched fireworks – it seems like every little group of houses got together and put on their own fireworks show, so from the overlook you could see eight or ten different sets, plus the clouds lighting up from ones beyond the mountain range.
When Passout was over, I headed to Vienna! I got a ride to Linz from an awesome group of jugglers from Cambridge – riding in a right-hand drive car when on standard roads is weird. But they got me to the train station in plenty of time, despite the fact that it finally snowed in Konigsweisen! It was very picturesque, but not so helpful for driving on winding mountainous roads.
Ate lunch in Linz, train to Vienna worked perfectly, got a little turned around on the subway to my hotel but figured it out, and took a break in the hotel room before heading out to get standing room tickets to Die Fledermaus at the Vienna State Opera. Got there about an hour and half before showtime, and ended up in a spot in the gallery – higher level, so great sound, but a little hard to see. It was nice, though – even the standing room spaces get personal subtitle screens, so I could follow the plot in English.
The opera was great! Best part was actually the set for Act 2, as the partygoers switched from dancing to dining in the middle of the act, and the entire massive set turntabled around from a ballroom area with French doors into what appeared to be a part of the dining room, to show the entire dining room with French doors into the ballroom. It was huge – the company was at least 40 people, all with fully set places at the tables. The singing was excellent, of course, and I was glad to have seen Die Fledermaus before so I could pay attention to more than the subtitles.
Then I headed back to the hotel to try to sleep – at Passout I was running on a 3 am to 11 am sleep schedule, whereas in Vienna I wanted to get up in time to get breakfast and go see things before the sun went down at 4:30 pm, so it took a few days to adjust.
Took it easy the first day, since it was both very cold and snowing, so I changed my original plan to walk the Ringstrasse and then go to Schonbrunn Palace and instead headed to the Leopold Museum (modern art) and MUMOK (contemporary art). Some cool exhibits, but I think my favorite thing was just the architecture of MUMOK – weird shape, dark and mechanical, but fascinating. Lots of art in the Leopold by Egon Schiele, who I don't remember having seen before.
On Tuesday I went to Schonbrunn Palace, which is huge and awesome. Very like Versailles in scale, only less decoration on every surface ever.
Anyway, huge chandeliers, gorgeous rooms with elaborate wall paintings, and best of all, a massive garden with a view of the Gloriette, which is, in comparison, a relatively small building with arches and columns and a tasty cafe in it, where I had hot chocolate and warmed up after the climb up the hill.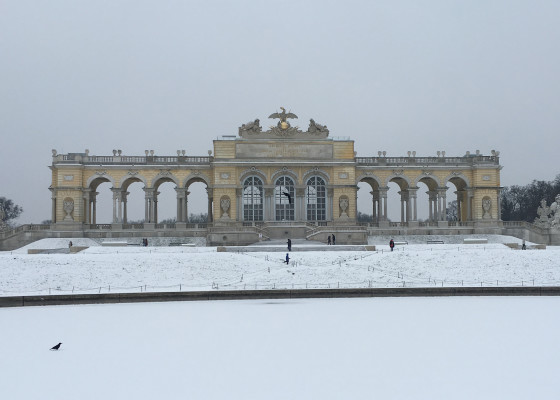 Then I headed to Schonbrunn Zoo, which claims to be the oldest zoo in the world. The zoo was gorgeous too – it's a series of beautiful little houses. The penguins looked perfectly pleased to be out in the snow, but the giant panda was sleeping up against the wall with its paws over its eyes.
Then I went to what I think may be the coolest museum I've ever been to – the Technisches Museum (Technology Museum), but it was all about how things work- different kinds of power generation, and physics, and locomotion, and mining, and transportation, and sound (there was a cool booth where you could yell and it would tell you how loud you were – 122dB was all I was willing to do in public), and a slide that would tell you how fast you were going down it, and all sorts of other interactive cranks and pulleys and things. I intensely wanted to have a nephew with me.
Wednesday I started with the Hofburg, the main place where the Hapsburgs lived/worked when they weren't out at Schonbrunn.
Huge complex, decided to start with the Imperial Treasury. The treasury makes me want to become a minimalist, seriously, every surface that you can encrust with gems was in fact encrusted with gems. Also the world's largest cut emerald. Some of it was gorgeous, and a lot of it was just excessive.

Kuntshistorisches (Art History) museum was next – significant exhibit on Joseph Cornell, who was evidently a major influence on Jasper Johns and Rauschenberg, and who I'm pretty sure I'd never heard of. Then back to the hotel via Spar for lunch, and out again to the Albertina, which had a really nice Munch exhibit as well as a Monet to Picasso exhibit with a lot of old friends in it.
On my way home, I was thwarted in my quest for cake (my usual afternoon snack) because it was Epiphany, and evidently people in Austria actually get Epiphany off. Interesting!
My last day in Vienna, I started with the walk I'd wanted to do the first day, but put off because of cold. Today was a balmy 34 degrees, so much better. Walked up to Ringstrasse, turned left to go between the Hofburg and the History museums, found Parliament and the Rathaus, though the latter was mostly obscured by workers taking down all the Christmas stuff that had been in front of it.
Cut in toward the city center to find St. Peter's, but was thwarted in seeing the interior by them having services. Moved on to St. Stephens and went up the North tower to a great, if slightly foggy, view of the city. It has a really decorative roof, too!
Left there along what seems like Vienna's 5th Avenue- Prada, Gucci, Louis Vuitton, etc – all the fancy stores (and mostly the same ones you see in the US).
Then headed out to the Belvedere, which took the underground to Sudtiroler Platz and then a bit of a walk. Belvedere is yet another huge palace – really beautiful, and with some great art.
Klimt's "The Kiss" is the one they advertise lots of, but they've also got Van Gogh and Renoir and lots of other great stuff – including cool modern pieces made of fluorescent lights in the foyer areas. Came back via Karlsplatz and one last look at St Charles with the sunset, and stopped for a final snack of chocolate cake.
Got back to the hotel and packed to be ready to go to the airport at 6 am.
Overall, Vienna is an amazing city, and I had a great trip.